Replacing Outdated Calibration Equipment in Peaking Power Plants
Thursday, July 21, 2022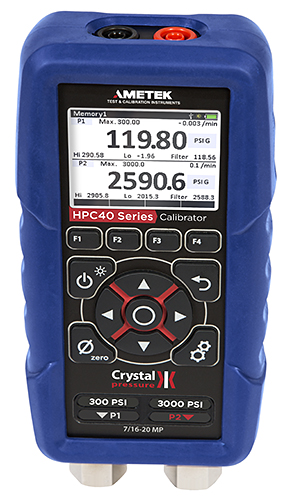 A local peaking power plant with four combustion turbines was looking to replace some older pressure calibrators for their instrumentation and control technicians. These instruments would calibrate gauges, sensors, and transmitters for parameters such as steam pressures, differential pressures for level and flow, fuel pressures, and more. The team was looking to replace basic pressure calibrators.

Our Solution
Our HPC40 Series with a 30 psi low-pressure sensor and a 3000 psi high-pressure sensor was determined to be a good fit for the applications that they had described. The dual range calibrator allowed them to use the 30 psi sensor for their low range and vacuum applications and the 3000 psi range for their higher range applications. We demonstrated the unit using our T-975 handpump as the pressure source and the XP2i pressure gauge as a simulated unit under test. Our CPF hose and pressure fittings provided the connections. The lead technician was impressed that the finger-tight CPF fittings did not require tools or thread tape throughout the demonstration, and it took minutes to set up and break down the test. In addition to the T-975, we introduced the T-620 hydraulic handpump for their higher pressure applications. As a result, the customer ended up choosing one of our complete pressure pump systems, including the HPC40 calibrator, the T-975 pneumatic hand pump, the T-620 hydraulic hand pump, and the CPF fittings, all in a waterproof carrying case.

The customer was very impressed by the ease of setup and use of the HPC40 pressure calibrator. They felt that the Advanced Simplicity interface combined with the color display was better than any calibrator that they had seen.